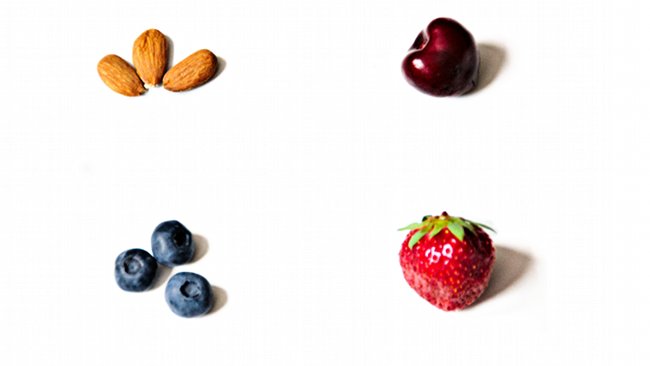 Fall is replacing summer, and the pantry slowly fills with preserves. The jams of the last two posts from this series give a wide variety of tastes. None of them are conventional — they range from the simple addition of spices to preserving produce most people don't connect with jam, like bananas or even herbs. This time, only two recipes, but both are adventurous. Not because they are an acquired taste — it was love at first spoonful — but because they are very far from the usual expectation of jam. Don't let that stop you, though. They are easy to make and delicious.
Vegetable jams


Many vegetables, especially members of the Nightshade family, tubers, and bulbs contain their own sweetness and can be paired nicely with sugar to create a great jams—no less sweet than one made with fruit. Both tomato confit and bell pepper jam are popular.
Vegetable jams can be made like fruit jam with just sugar, acid and puréed vegetables, or be more complicated, by conserving the vegetables whole in hot sugar syrup. Today's recipe (adapted from David Lebovitz) is much more involved, marrying the flavor of many unlikely ingredients to create a delicious treat.
Shallot-beer jam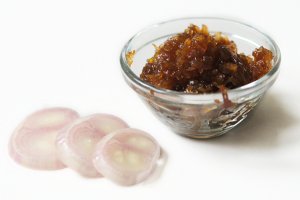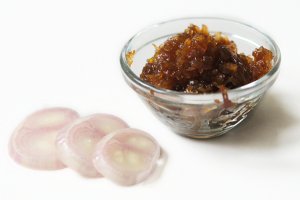 450 g shallots
40 g neutral oil
a pinch of salt
a pinch of pepper
100 g dark lager
50 g sugar
45 g honey
60 g cider
90 g prunes
a pinch of cocoa powder
Dice the shallots and the prunes. Sweat the shallots in the oil until translucent. Add the rest of the ingredients and cook until everything has caramelized.
The original includes cocoa nibs. They are not only harder to get, but I didn't like their texture in the finished product, so I preferred a second batch which I made with non-Dutched cocoa instead. Feel free to go back to the original if you want some crunch to your jam. Also, the original did not specify the type of beer, but I find that the dark beer harmonizes with the caramelized onions better than a standard light lager.
Flower preserves


Although less used in Western cuisine, fragrant blossoms are enjoyed as food in many parts of the world. Maybe the most common example which has entered our culture is jasmine tea. But flowers can be used in many capacities beside tea, and go especially well in sweet applications. There are jams made with violets and elderflower, but the queen of flower jams is made from the queen of flowers: the rose.
Traditionally, rose jam is made from the very aromatic Rosa × damascena species, which is cultivated commerically for culinary use and cosmetics, mostly in the form of rose water and rose oil. It can be also made with other rose species, but it is advisable that you get them from a garden. The roses in a flower shop may be treated with inedible pesticides and other chemicals. Besides, they are selected for beauty and tolerance for hard conditions (such as being cut and transported). If you have any choice between cultivators, go by fragrance strength. If your jam still doesn't have enough flavor, you can add some rose water to the next batch.
Rose petal jam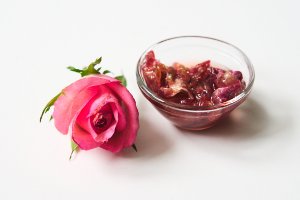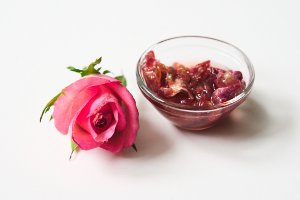 100 g rose petals
300 g sugar
200 g water
15 ml lemon juice
Remove the petals from the flowers. Remove the stamens and cut off the harder yellow parts from the bottom of the petals. Cook a simple syrup from the sugar, water and juice. When it reaches 104°C, add the petals and leave it on moderate-to-strong heat until it reaches 110°C.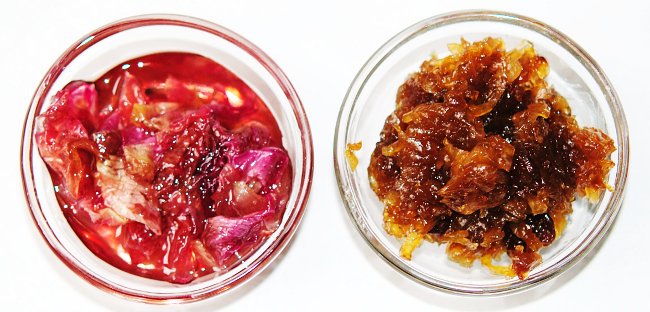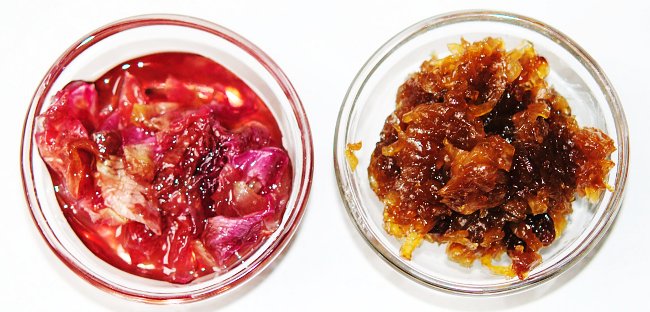 These recipes are good examples of how unusual jams can get. Even if you don't cook them for yourself, I hope you enjoyed learning more about how to be creative in the kitchen. Have fun, eat well, and stay tuned for the last part of the series, which will take us back to jams closer to the mainstream.
Notes