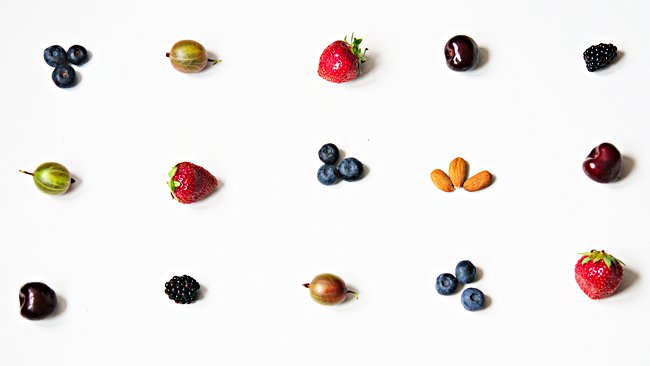 Summer reigns in full glory, and there is juicy, sweet fruit everywhere. Right now, I enjoy it in countless preparations—fruit salads, smoothies, hot pies and cool sorbets—but I know that in the winter, I will still long for this great variety of taste and flavor. Thus, I am making some preserves to last me through the cold season. But I don't limit myself to old staples such as strawberry jam and apple butter. There is a rainbow of recipes available for fresh, unusual, quirky jams.
In this series, I present some of those unusual recipes. Some of them will probably surprise you, but dare to be different: I have tried them and they are all good. And even if you are already an experienced jam experimenter and know of all these tricks, take a look at them, for some inspiration if nothing else.
In Cherry, Berry, Nut (Part 1), I presented jams made from unconventional fruit (featured recipe: banana jam), jams where the taste is brightened with some good quality alcohol (recipe: blackberry vanilla bourbon jam), and aromatic herb jellies (recipe: sage jelly). This post presents three new ideas: Alternative sweeteners bring a nice touch of difference to otherwise ordinary jams. Spices transform a normal one-fruit jam to something entirely different. Finally, something highly unusual—not a jam at all—homemade treacle.
Alternative sweeteners


There is an endless variety of fruit you can use to make jams. But if you like a certain fruit (or have a garden full of it), it is a better idea to vary the other ingredients. Jam, being a mix of fruit, sugar and (tasteless) gelling agent, it is natural to try a sweetener with more taste than plain white sugar. You can employ almost any natural sweetener for jam making. (Artificial sweeteners should work if you use LM pectin, but this post is about getting maximum flavor, not minimum calories.)
You can use whatever sweetener you have at hand, replacing part or all of the sugar 1:1 by weight. I have found that recipes which replace ⅓ to ½ of the sugar give the best results: a nice additional flavor without overpowering the fruit. Some of my favorite combinations are the always-classic caramel notes of dark molasses in a pear jam, and the gentle flavor of honey in a blueberry-rhubarb jam. You can also get creative with the treacle discussed at the end of this post. But the example recipe today employs one of my favorite sweeteners: strong maple syrup.
Kiwi-grape-maple syrup preserve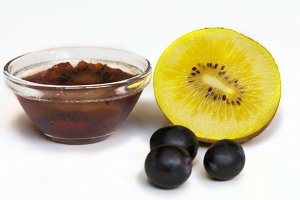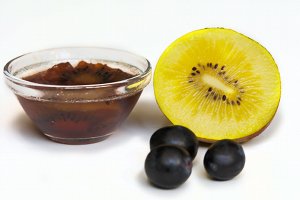 300 g kiwifruit
100 g red grapes (choose large, seedless grapes)
180 ml grape juice
20 ml lemon juice
150 g sugar
150 g maple syrup grade C
pectin
Peel the kiwifruit and cut them to slices. Put the grapes in a bowl and pour boiling water over them. Peel the grapes and halve them. (It is as fiddly as it sounds. You can change the grape to grape juice ratio if you don't have the time, just make sure the sum stays the same. Also, don't fully blanch the grapes or they'll be harder to peel, not easier). Mix the sugar and maple syrup into the juice and place on low-to-medium heat and bring to a simmer to dissolve the sugar. Add the prepared fruit to the simmering juice. When softened, add the pectin and cook until gelled. Avoid stirring, as it mushes the fruit pieces.
Spiced jams


A sweetener such as honey or maple syrup can add some lovely notes to a jam. A bouquet of spices can completely transform the character of a jam. I find that spices are best used with single-fruit jams, changing them from a boring strawberry jam into combinations we love from our favorite desserts such as strawberry-lime zest jam (add some vanilla for a fuller taste). And while pure apple butter is just a side to something else (if not outright demoted to egg substitute in muffins), cinnamon apple butter is almost as good as having an instant apple pie in the fridge (spread it on graham crackers for a crunch). The recipe featured here is courtesy of Sobachatina's wife. She calls it "Christmas in a jar", and I wholeheartedly agree with her.
Spiced apricot jam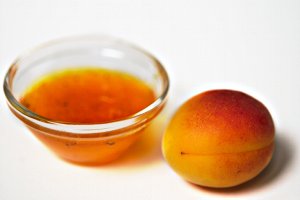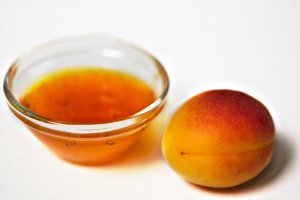 600 g pitted apricots
60 ml fresh lemon juice
300 g sugar
pectin
1 tablespoon finely chopped crystalized ginger
½ teaspoon freshly grated nutmeg
¼ teaspoon freshly grated ginger root
½ teaspoon ground cinnamon
¼ teaspoon freshly ground cloves
¼ teaspoon freshly ground allspice
Puree the apricots. Mix everything together and cook until gelled.
Treacle


Most people have never cooked it, but it used to be a staple a few generations ago. Treacle is nothing but very concentrated fruit juice, to the point where most water has evaporated. It is cooked to a temperature where pure sucrose would still be very light, without much taste. But the fructose and the other compounds found in unrefined fruit juice already change at these temperatures, giving the treacle tastes not found in a pure sugar syrup.
While you can eat treacle like jam, I see it as more similar to honey in its usage. It tastes great as a bread spread, but can also be used as a sweetener anywhere you could use more flavor than what pure sugar or corn syrup gives you. Try using it in baking, or to sweeten desserts or even drinks.
Making treacle takes lots of time and fruit, and the end product is slightly less fruity than a normal jam or jelly. So if you are buying your fruit from a supermarket, it is unlikely to become a common method of preserving fruit for you. But if you have access to large amounts of fruit—your own garden or a deal from a farmer who wants to move lots of fruit at once—it is a great way to reduce mountains of fruit to a manageable volume (in my case, I got 110 g of treacle per liter of juice, that's about 2 kg of apples) while ending up with a product which is more versatile than just a bread spread. If you are sure that you won't use it as a sweetener, you can make rachel by cooking pieces of dried fruit and/or nuts in it and canning it all together.
Traditionally, treacle was prepared from fruit rich in both fructose and water, and abundant in our grandmothers' gardens. This includes apple treacle, grape treacle, quince treacle and watermelon treacle. But if you don't mind discarding large amounts of dry matter from the fruit, you can try any other fruit you have in sufficient quantities or also exotic fruit (I wonder what pineapple treacle might taste like—if you try it, leave me a comment). The pectin content of the fruit is not important, as the consistency is determined by the fact that there is almost no water remaining in the final product. It is a sticky, viscous liquid, like honey, don't expect it to gel even when made from high-pectin fruit like apples.
Apple treacle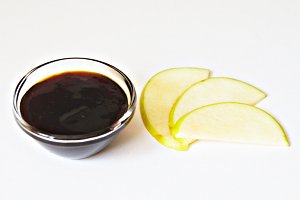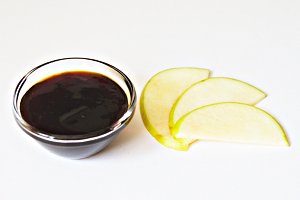 Juice the fruit. In a stock pot (not too wide – else the resulting ~100 g treacle will burn easily), bring juice to a low simmer, and let it cook away with a thermometer set to sound an alarm at 105°C. This will take several hours. Once the alarm has sounded, watch the pot until it reaches 108°C (should only take a few minutes), then remove from the heat. Don't leave it unattended without the alarm, it goes from "not yet ready" to "sticky charcoal" in a few minutes.
Enjoy the summer, and happy cooking!


Notes
Not all jams in this series are certain to have the needed acidity for hot water canning! Measure their pH and if it is above 4.5, you can either use pressure canning or keep them in the fridge. For more information on food safety and canning, see this official information on canning safety
I intentionally didn't include pectin amounts in the recipes. The amount of pectin you use is dependent on the type and brand of pectin you buy. Use the guidelines printed on your pectin package, or learn more about pectin.
If you want a small primer on the difference between jam, jelly and preserves, The Kitchn has a great article.