The accepted wisdom is that cookies baked directly on something other than an ungreased baking sheet will burn less. I tend to use parchment paper for my baking, but I wanted to test how much it really matters. In addition to the bare cookie sheet, I had parchment paper and a silicone baking mat, so I got to making the cookies.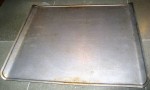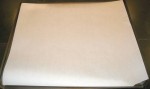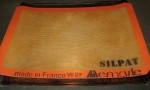 Recipe
I put a rack in the middle of the oven and preheated it to 350°F (≈180°C).
I stirred these:
11¼
oz
all-purpose flour
320
g
1
tsp
baking soda
4.6
g
1
tsp
salt
6
g
and then creamed these in my stand mixer bowl (the main work bowl):
½
cup
unsalted butter, at room temperature
115
g
½
cup
shortening
100
g
¾
cup
granulated sugar
≈150
g
¾
cup
packed brown sugar
≈165
g
1
tsp
vanilla extract
4.3
g
I also prepped:
2
large
eggs
12
oz
semi-sweet chocolate chips
340
g
I beat the eggs into the creamed mixture in the work bowl, then stirred in the flour mixture in 3 batches, and finally stirred in the chocolate chips.
I used a disher scoop to drop about a tablespoon of dough onto each baking sheet preparation: parchment paper, silicone mat, and bare baking sheet. I baked each sheet for 10 minutes, and cooled the cookies on cooling racks once the cookies were set.
To prevent the dough from warming up on the counter and confusing the results, I put the cookie dough in the refrigerator between rounds of baking. (I increased the baking time because of the chilled dough; normally I would only bake the cookies for 9 minutes.)
Results
I expected a bigger difference between these 3 methods. The silicone mat browned the cookies a bit less than the other methods – so it can provide a little insurance if you're afraid of burnt cookies.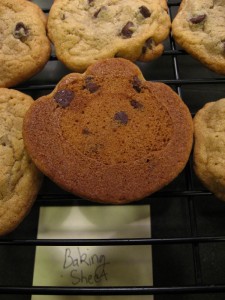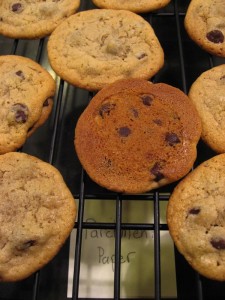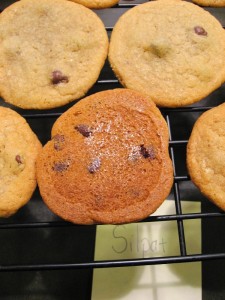 From left to right: baking sheet, silpat, parchment paper
I'm going to stick with parchment paper, because it offers one big advantage over the bare sheet and silicone mat: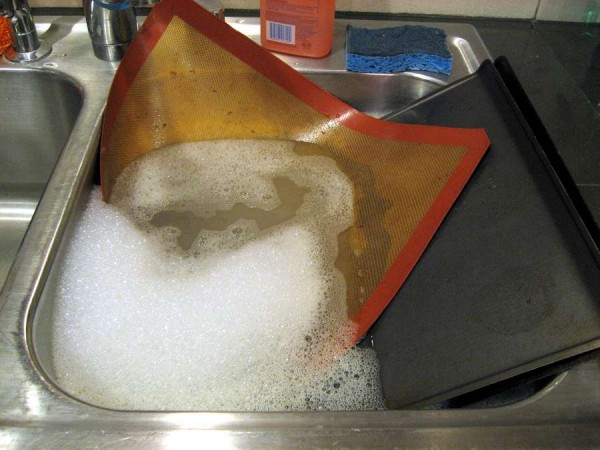 No clean up.