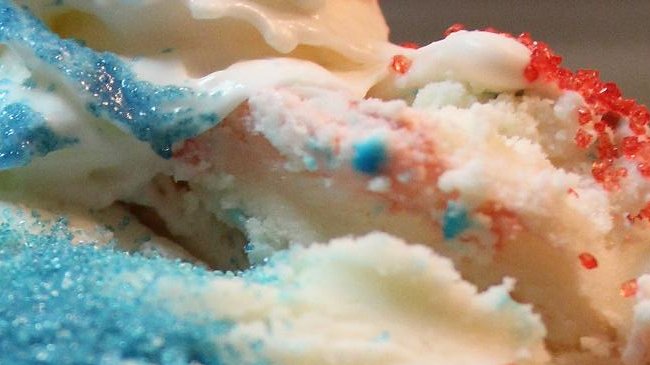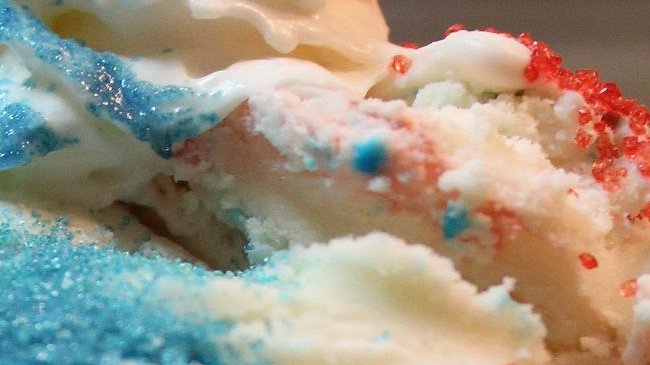 With the holiday around the corner, we admins decided to give you a holiday special. Last year, we had a nice question for colored ice creams, and while rumtscho answered it with ideas, they were untested. So we enlisted the help of some #FryingPan regulars and tried out a few ideas. Some didn't work outright, but in the end, we created three ice creams fit to adorn your holiday table. They all work with a single batch of white ice cream, so you don't have to plan three days early, refreezing the bowl of the ice cream maker overnight.
Simple but fun: sprinkles
This easy version requires no special techniques and is practically impossible to do wrong. From an aesthetics point of view, it is just as good as the more complicated versions. Idea and execution by Mien.
Ice cream 1, sprinkles 2
Crunchy colors: M&Ms
A lovely combination: the crunchy texture, chocolate-peanut taste and subtle colored swirls produced by the semi-dissolved candy shells, combined with freshly churned ice cream, topped with colored sugar. Idea and execution by Sobachatina.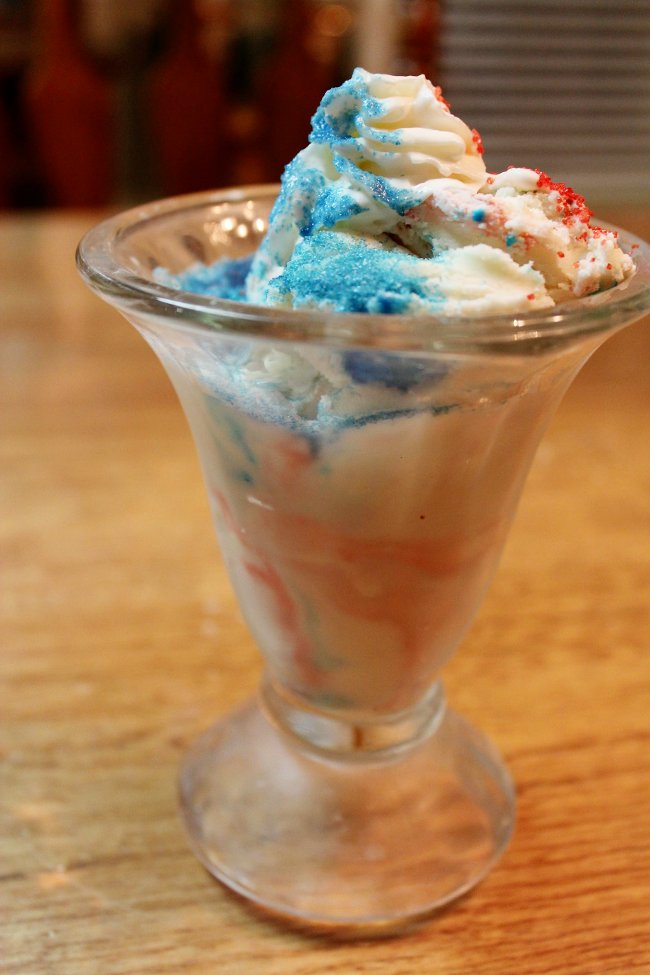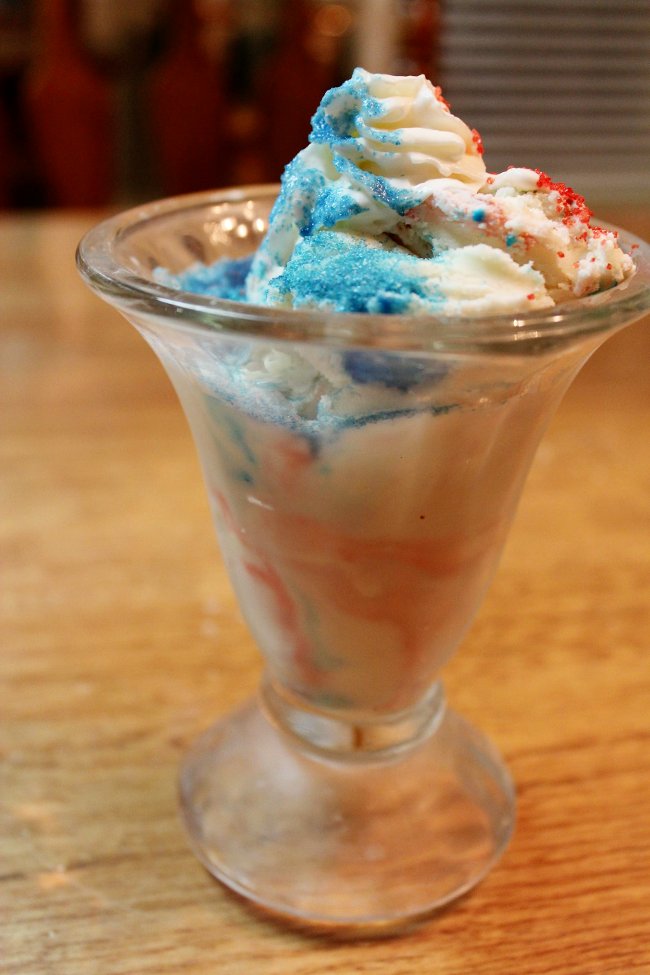 Ice cream 1, M&Ms3, colored sugar 4
Sweet swirls: sugar syrup
Making this one is more involved, but you can achieve some beautiful results with this technique: layer simple syrup on the frozen ice cream, using a thin gelatine layer as a barrier to prevent the cream from blooming into the syrup. Idea and execution by Rumtscho.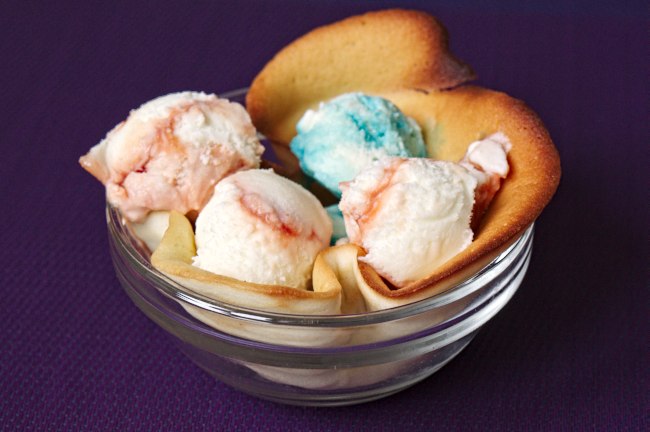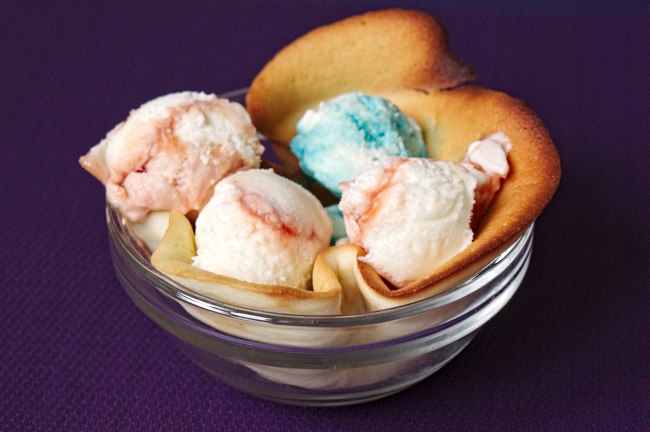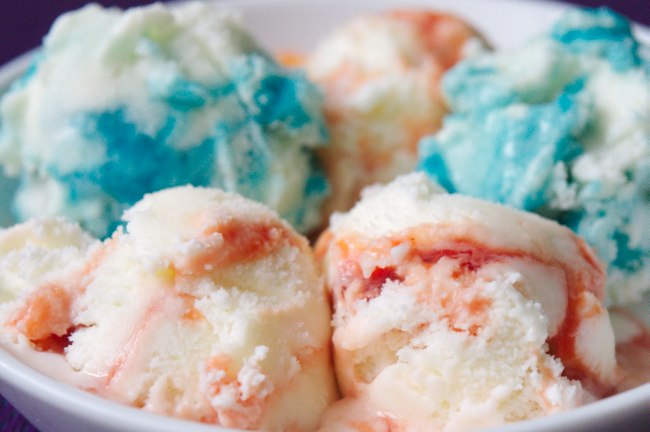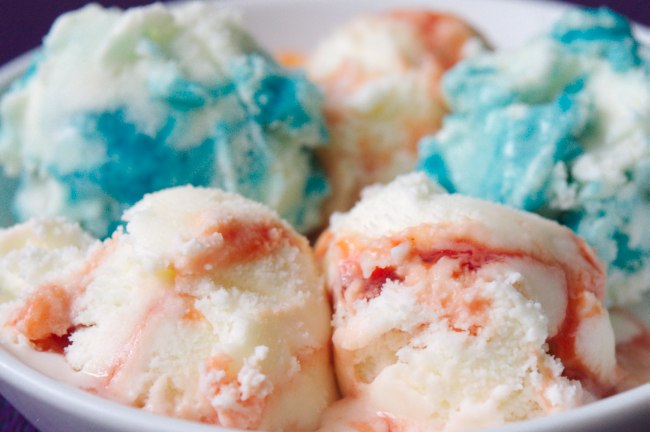 Ice cream 1, colored syrup 5, hippen "bowl"6
---
Ingredients
Vanilla ice cream, Philadelphia style: 500 ml heavy cream, 250 ml full-fat milk, 150 g sugar, a pinch of salt, a teaspoon of vanilla extract.
Colored sprinkles, sorted
Dark chocolate M&Ms, sorted
Sugar with food coloring
Simple syrup: 75 g sugar, 75 g water, 1 g cream of tartar, food coloring, 108°C.
Hippen "bowl": 70 g confectioner's sugar, 45 g AP flour, 2 egg whites, 35 g melted unsalted butter
The Seasoned Advice blog team wishes you a happy 4th of July!